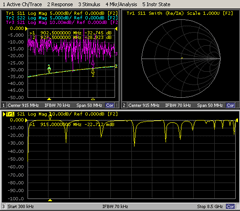 click for larger image (20KB)
Not having a real data sheet for the part, I decided to check its performance on the network analyzer.
The newer spec. quotes insertion loss at less than .07 dB and return loss of -26.4. The plots indicate even better performance: < .03 db insertion loss and better than -28 db return loss.
I don't think I have to worry much about performance degradation due to the arrestor!