ARRL Microwave Contest Weekend #1
Here are some images and sounds from the first weekend of the ARRL Microwave Contest 1996 by Dave Glawson - WA6CGR and Miguel Ramirez - W6YLZ. This is the San Vincente Conservancy in the Santa Monica Mountains above Mulholland Drive.

DM04RD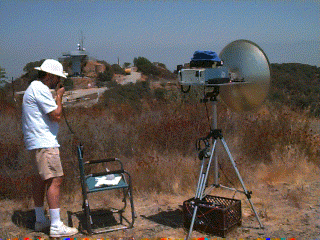 Miguel - W6YLZ talking with Jack - XE2/N6XQ for a distance of 504 Miles!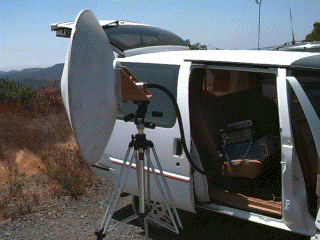 Dave - WA6CGR's Equipment

Actual audio from Jack - N6XQ at 504 miles (811 km) away (DL27QP) talking to
Dave - WA6CGR (DM04RD): N6XQ.au (231 K) AU format audio file.

Use NAPlayer for Windows or Sound Machine on the Macintosh.
Netscape 3.0 for both environments will play the sound without helper applications.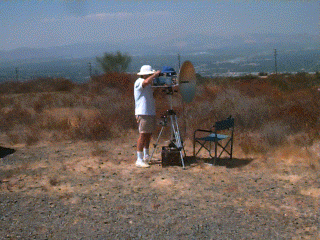 Miguel - W6YLZ talking with Gordon - WB6NOA Maritime Mobile.

Here are some notes from Jack - XE2/N6XQ from the contest:

Hello X Banders,


The trip to the Vizcaino Peninsula was enjoyable this last contest
weekend except for lousy conditions, hot weather, a catastrophic failure in
the transverter, an infestation of scorpions, and my catalytic converter
clogging up in the boondocks.


In spite of all that we made 26 Q's. 25 of which counted for the contest.
Gordon, WB6NOA/MM was 11 of those contacts. The best DX was 504 miles to
WA6CGR/W6YLZ somewhere near Santa Monica. Most signals were loud, but not
as loud as they would have been if conditions were great. I heard WA6OWD
from Techachapi on a couple 2 second tropo bursts. We tried for over an
hour, but the path was too marginal. Monday and Tuesday, monitoring of the
FM broadcast radio showed much better conditions.


I still haven't learned. We're going back for the second half of the
contest. This time we will rove a little bit from the following candidate
locations:


San Quintin DM10XL el 750 ft 342 miles south of Frazier Bcn


El Rosario Bluff DM20DB el 500 ft 374 miles south of Frazier Bcn


Punta Baja DL29CW el 50 ft 381 miles S of Frz Bcn (Yes, it's greater
than 10 mi. from the prev loc)


Punta San Antonio DL29DS el SL 395 miles south of Frazier Bcn


All of the sites are excellent microwave locations with over the water
shots toward California. We will probably start out at the San Quintin
site. A couple of years ago I could hear WA6OWD on Benito consistently
during the day from this site. This was when I backpacked up with a 30 in
dish. The duration of the stay at each site will vary depending on
conditions, activity, etc.


The equipment will be 15 Watts, 1 dB NF, 6 foot dish. The dish mounted on
top of the van worked out great. I had no problems at all in accurately
pointing it. Robin's system worked out great for liaison. I only had to
switch between Signal and Lukens and never once lost contact. Not bad for
working through a repeater 500 miles away. San Quintin has a new cell site,
so this may also be used for liaison. My number will be (619) 417-8879.


If anyone has questions, special requests, etc. Please e-mail or call me
at (619) 224-8879.


73 Jack N6XQ


-----------------------
n6xq@ham-radio.com
91 countries on 50 MHz

---
Back to the SBMS Home Page.