WB6CWN & W1LP/mm North American X-band record
797 miles 1282 km, Sept 20 2001
WB6CWN at DM04eg to W1LP/mm at DL34ja
Frank WB6CWN at DM04eg during contact with Clint W1LP/mm. Frank runs a four foot Andrews dish, 10 watts and a 1 db noise figure all phase locked to a 10 MHz reference.
Pictures from W1LP aboard his ship.
1.3 MB MPG movie taken by Frank while sending a carrier to Clint while setting up contact.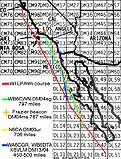 RealAudio recording of W1LP/mm working N6CA at 706 miles on 10368.1 MHz. It's 388k and about 1 minute in length. Playback speed raised 30% to increase pitch of recording. Recording has two repeaters IDing with 2 meter ssb in back ground and I was moving recorder around while sending . . . . .standing up. There is no way you can relax while doing this!


A view fron Palos Verdes from N6CA with 2 foot dish This costal ducting is amazing.
more pictures and data to follow...soon.....from Clint.
There will probably be many guys trying to work on this path this December as Clint steams North/South from Panama.